Many parents feel overwhelmed or exhausted by the stresses and difficulties of everyday life. Sometimes they have no one to give them encouragement and support when they most need it.
Volunteering With Us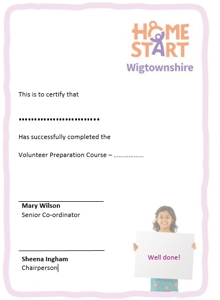 Home-Start volunteers can make a difference in lots of ways.
You can visit parents and children in their homes.
Help at one of our family groups.
Become a Telephone Befriender for families.
Act as a trustee.
Fundraise.
DIY/Gardening Roles
Play an active role in your community.
"Give something back" – return the support.
Support for Volunteers
Home-Start volunteers are trained and supported before and during their time with a family.
A course of preparation running once weekly for up to 6 weeks before meeting your first family.
Regular support and supervision with the Co-ordinator.
Paid expenses during training and whilst supporting a family.
Ongoing training opportunities.
Prepare for returning to work or progressing their career.
What we ask of you:
Be able to support a family on a regular basis – once a week for around 2 hours.
Support for families is confidential.
All volunteers undertake a Protecting Vulnerable Groups (PVG) check.
Trustees
Our trustees are people within our community who are aware of local issues and committed to supporting Home-Start Wigtownshire by sharing their skills, expertise and time on a voluntary basis.
The trustees are responsible for the governance of Home-Start Wigtownshire ensuring that its legal and financial obligations are met.
Board meetings are held every six weeks.
Trustees work in partnership with staff and other volunteers.
Trustees attend additional sub committees e.g. funding, quality assurance.
Induction and ongoing training available.
Expenses are paid.
More detailed roles and responsibilities are available by contacting the office – details below.
If you would like to find out more about volunteering, please contact Elaine McCloymont (volunteer co-ordinator) on 01776 706984 or email elaine.mccloymont@home-startwigtownshire.co.uk or click one of the links below to download our application pack or description pack.